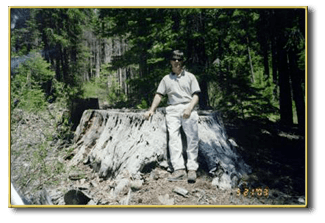 J. H. Graham, Inc., is a timberland management and advisory firm that currently manages 25,000 acres of timberland with an appraised value of over 35 million dollars. The company was founded in 1993 to provide timberland management services for both large and small clients in the Alabama forest owner community. In 1997, Chip became a Real Estate Broker and added a real estate branch to the J.H. Graham Tree. Focusing primarily on rural timberland and recreation properties, Chip puts his 35 years of deal-making know-how, negotiation skills and market knowledge to work for his clients on a daily basis.
Joseph (Chip) Graham 30 years of experience in silvicultural services and land management. In 1993 he founded J. H. Graham, Inc. to provide forestry services with integrity and professionalism to the landowners of North & Central Alabama. He has developed an extensive network of clients and associates with which to share information regarding the issues facing today's timberland managers. His success is based upon his initiative, willingness to make decisions and to accept responsibility. These skills along with the experience of working with people in many different geographic areas allow him to recognize client needs and to develop plans to achieve their desired results. He attended Auburn University graduating in 1987 with a bachelor's degree in Forestry Management. He is a State of Alabama Registered Forester, a Licensed Real Estate Broker and a Licensed Residential Home Builder in the State of Alabama. Chip served consecutive terms as President of the Walker County Board of Realtors.
Howard Graham brings over 40 years of management and acquisition skills to our team. In addition to his forestry related activities he plays an integral role in the non-forestry aspects of land management by providing consulting services for clients with special needs. A background in logging, lumber, land appraisal, surface mining and heavy construction qualifies him to wear many hats. During the mid 80's and early nineties Howard established and managed a heavy construction firm specializing in commercial site preparation, road construction and surface mine reclamation. Prior to being self employed in heavy construction, Howard was employed for fifteen years by a large coal surface mining company. He served in a number of capacities which included reclamation of mined lands, permitting and regulatory affairs, leasehold maintenance and mine management. He also brings many years of invaluable land acquisition and negotiating experience. From June of 1986 to early 1988 Howard coordinated and directly participated in the acquisition of an entire community consisting of more than fifty homes. Howard graduated from the University of Alabama in 1965 with a degree in Marketing and Management. Growing up in a family of sawmillers he worked in the family business and shared management duties after graduation. The business was sold in 1968 and Howard was employed by Sizemore & Sizemore as the director of field operations. His responsibilities included feasibility studies, acquisition evaluations and appraisals throughout the southeast. This experience included a tour as a trouble shooter for an overseas logging operation in Central America. He is a past president of the Walker County Building Authority, has served on the Alabama Coal Association Task Force for Regulatory Affairs, and is an active outdoors man.